Board of the German Network against Neglected Tropical Diseases (DNTDs)
Board of the DNTDs (July 2023)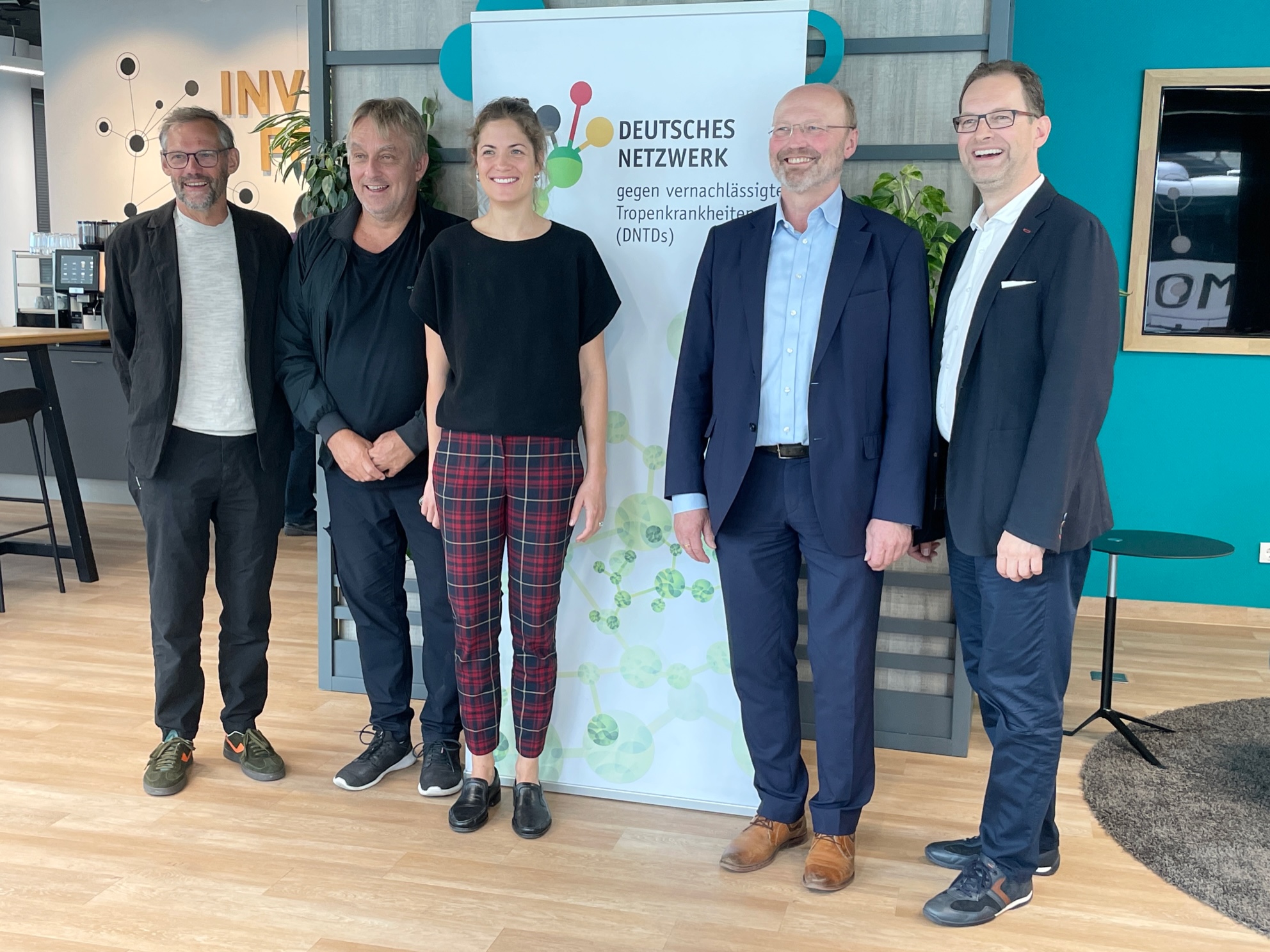 Speaker
Prof. Dr. Achim Hörauf
Director of the Institute for Medical Microbiology, Immunology and Parasitology, University Bonn Medical Center
Deputy Speaker
Antonia Braus
Desk Officer One Health and Scientific Affairs, Vétérinaires sans Frontières Germany (VSFG)
Member of the board
Dr. Dr. Carsten Köhler
Tropical Disease Specialist and Director Center of Excellence of Tropical Medicine, Baden-Wuerttemberg, Institute for Tropical Medicine at University Hospital Tübingen
Member of the board
Johan Willems
NTD-Program Manager, Christoffel-Blindenmission (CBM)
Member of the board
Harald Zimmer
Senior Manager, German association of research-based pharmaceutical manufacturers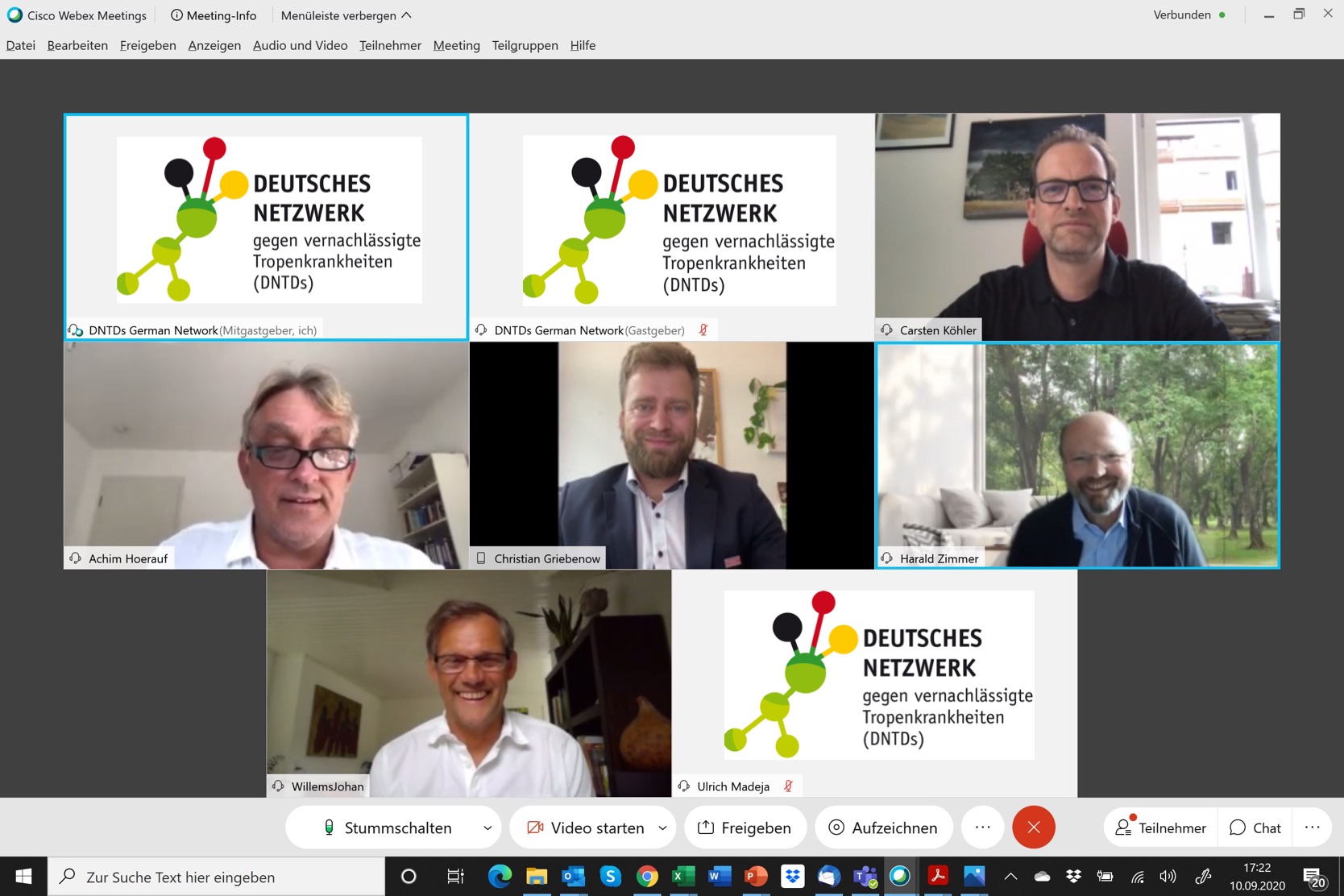 Board of the DNTDs (September 2020)
Speaker
Prof. Dr. Achim Hörauf
Director of the Institute for Medical Microbiology, Immunology and Parasitology, University Bonn Medical Center
Member of the board
Dr. Dr. Carsten Köhler
Tropical Disease Specialist and Director Center of Excellence of Tropical Medicine, Baden-Wuerttemberg, Institute for Tropical Medicine at University Hospital Tübingen
Member of the board
Christian Griebenow
Managing Director Vétérinaires Sans Frontières Germany
Member of the board
Johan Willems
NTD-Program manager, Christoffel-Blindenmission(CBM)
Member of the board
Harald Zimmer
Senior Manager
German association of research-based pharmaceutical manufacturers
Board of the DNTDs (May 2017)
Speaker
Prof. Dr. Achim Hörauf, Director of the Institute for Medical Microbiology, Immunology and Parasitology, University Bonn Medical Center
Member of the board
Dr. Dr. Carsten Köhler
Tropical Disease Specialist and Director Center of Excellence of Tropical Medicine, Baden-Wuerttemberg, Institute for Tropical Medicine at University Hospital Tübingen
Member of the board
Christian Griebenow
Managing Director Vétérinaires Sans Frontières Germany
Member of the board
Johan Willems
NTD-Program Director Africa, Christoffel-Blindenmission(CBM)
Member of the board
Harald Zimmer
Senior Manager
German association of research-based pharmaceutical manufacturers
Timm Schneider
Samhathi Deutschland - Hilfe für Indien e.V.
was from September 2017 till March 2019 member of the board.
Board of the DNTDs (August 2014 - May 2017)
Speaker
Prof. Dr. Jürgen May
Head of Research Group Infectious Disease Epidemiology
Bernhard-Nocht-Institut für Tropenmedizin (BNITM)
Deputy speaker
Harald Zimmer
Senior Manager
German association of research-based pharmaceutical manufacturers
Member of the board
Dr. Dr. Carsten Köhler
Tropical Disease Specialist and Director Center of Excellence of Tropical Medicine, Baden-Wuerttemberg, Institute for Tropical Medicine at University Hospital Tübingen
Member of the board
Prof. Dr. Martin Kollmann
Senior Advisor for Neglected Tropical Diseases (NTDs), CBM, Nairobi
Member of the board
Aziz Lamere
Managing Director, Narud e.V.